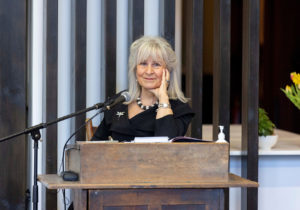 Baroness Helena Kennedy KC
Specialist in Civil Liberties and Human Rights
Baroness Helena Kennedy KC is one of Britain's most distinguished lawyers. She has spent her professional life giving voice to those who have least power within the system, championing civil liberties and promoting human rights. She has conducted many prominent cases of terrorism, official secrets and homicide. She is the founding force behind the establishment of the Bonavero Institute of Human Rights at the University of Oxford. In 1997, she was elevated to the House of Lords where she is a Labour peer. She has published a number of books including two on how the justice system is failing women, and has written and broadcasted on many issues over the years. Currently, she has taken on the role of Director to the International Bar Association's Human Rights Institute. She directs the Institute's work upholding the rule of law and human rights globally.
The Nature of Justice
Justice is an ethical concept. It is a core value. It demands that people should be treated fairly, properly, without bias or discrimination in their human interactions. A child soon develops a sense of what is fair and what is not.
Most societies develop rules for co-existence and, where there is a breach of such commandments or laws, processes are developed to provide remedies; a collective wisdom has developed which insists that such remedies should be arrived at justly, through procedural rules.
At the heart of our criminal justice system is a social contract which involves handing over our individual grievances to the state for decision making and punishment. The questions which arise concerns who makes the rules and who are the arbiters of justice. This lecture will engage with these issues in our contemporary society and in the international arena.
Baroness Helena Kennedy KC
View the lecture here