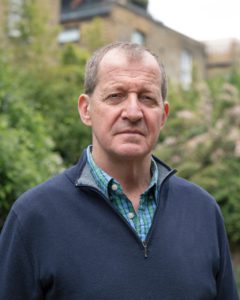 Alastair Campbell
Communicator, Writer, Strategist
Alastair Campbell is a writer, communicator and strategist best known for his role as former British Prime Minister Tony Blair's spokesman, press secretary and director of communications and strategy. Still active in politics and campaigns in Britain and overseas, he now splits his time between writing, speaking, broadcasting, charities and consultancy. He has written seventeen books including  two personal memoirs on depression and the pursuit of happiness. His latest, Living Better: How I learned to survive depression, was also a Sunday Times best-seller.
Though better known his life in politics and media, Alastair Campbell has strong family connections with Glasgow University. His father Donald graduated from the University's veterinary school. His brother Donald worked for the University for 27 years, as part of the security team and also as the University's official piper, right up to his death aged 62. Donald Junior is the inspiration for the Lecture Alastair will give, focused on the theme of mental health and mental illness, and the need to change the lens through which we view it. Donald lived for all his adult life with schizophrenia, a condition diagnosed when he was in the Scots Guards, and for which he was invalided out of the Army. At his brother's funeral, Alastair paid tribute to the University's role in giving opportunity and stability to someone living with such a serious condition. But all too many employers, and all too many members of the population, and indeed politicians and others in public life, continue to view mental health and mental illness through a prism clouded by stigma, taboo and attitudes which should have been left in the past. He argues that for all the progress made, we remain as a society far behind where we need to be, and could be, and sets out the steps needed finally to deliver the parity between mental and physical health which politicians have been promising without delivering.
View the lecture here